The Best Window Treatments For Your Lifestyle
There are five things to consider before buying the best window treatments for your home and lifestyle.
After working with hundreds of clients over the years, I have learned the most significant issue centers around choosing the right window treatments for functionality and lifestyle. How will the window treatments function for me, my family, children, and pets?
Window treatments have a big job to do. They must look beautiful, compliment the decor, and finally, they must be functional for you and your family's lifestyle.
How the best window treatments function for you
Window treatments work hard for your home and family.  They:
Let the sun in or keep it out either for sleeping or brightening our days.
Help us maintain our privacy. Nobody wants to show our assets to the world or even to our next door neighbor, Ed.
Show the view.  We all love big beautiful windows that show off the view of the lake. However, if the lake is a parking lot, we may wish to hide that view.
Keep us comfortable.  Ever stand by your window on a cold and windy day? You'll be surprised at how much cold air is coming through. Window treatments help block cold and heat from transferring back and forth in and out of your home.
So, you see, window treatments have a big job to do! Here are some things to consider before buying the best window treatments for your home.
Here comes the sun. A welcome or uninvited guest?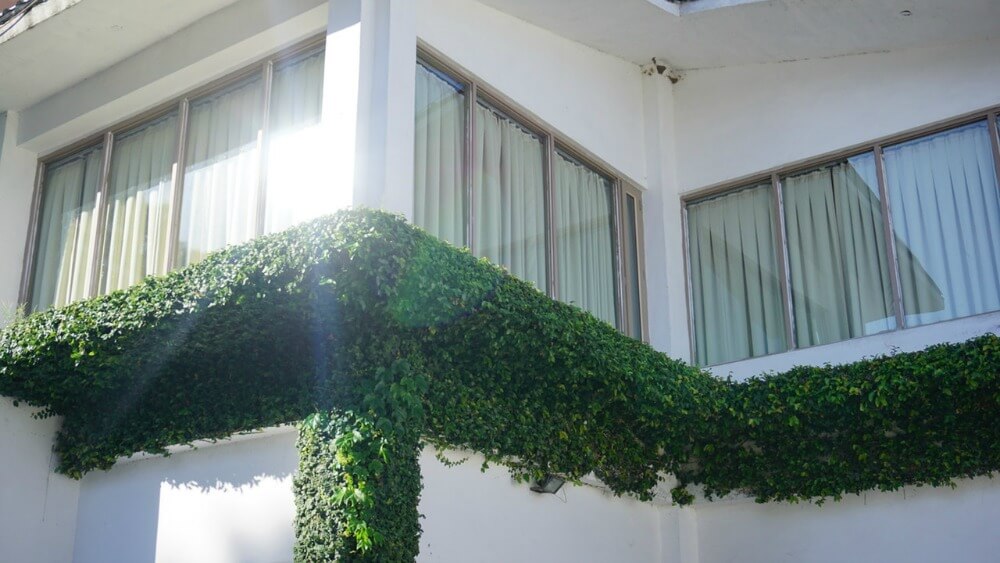 We all love the sunshine and summer time! Who doesn't enjoy the feeling of the sun coming in the windows?
Well, if you work nights, you may not like the sun coming inside when you're trying to sleep. If you are watching TV and the glare from the sun is preventing you from seeing the baseball game, you'll want to block the sun.
Controlling the sunshine in your home is a primary consideration. Window treatments can control the sunlight by darkening a room, letting the sun through, and help prevent the fading of floors, furniture, and fabrics.
Think of how a room is used before purchasing window coverings. In the kitchen, you may want an open concept with abundant sunshine. Conversely, in the living room, you may need more sun control.
The best window treatments for your home allow natural light and light control when needed.
If you can see out, they can see in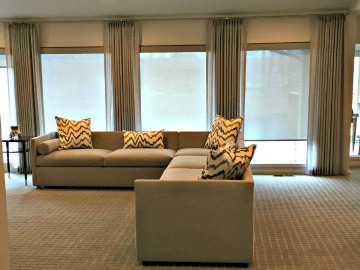 If you are unsure about the amount of privacy window treatments provide, here is a general guideline.
Imagine a window treatment drawn or closed. Whatever you can still see outside during the day, outsiders will see inside at night.
For example, a sheer window covering allows you to see a muted, softer view out during the day. That same muted, softer view will be of you and your family inside at nighttime.
Of course, aim for the most privacy in bathrooms and bedrooms. Please save yourself and guests any uncomfortableness by making sure that your windows provide you with the privacy you need.
Control energy levels
In the summer or the winter, window treatments help you control the comfort of your home.
We all love big windows, but they are also a significant source of energy consumption. Hot and cold air is continuously entering and exiting through your windows.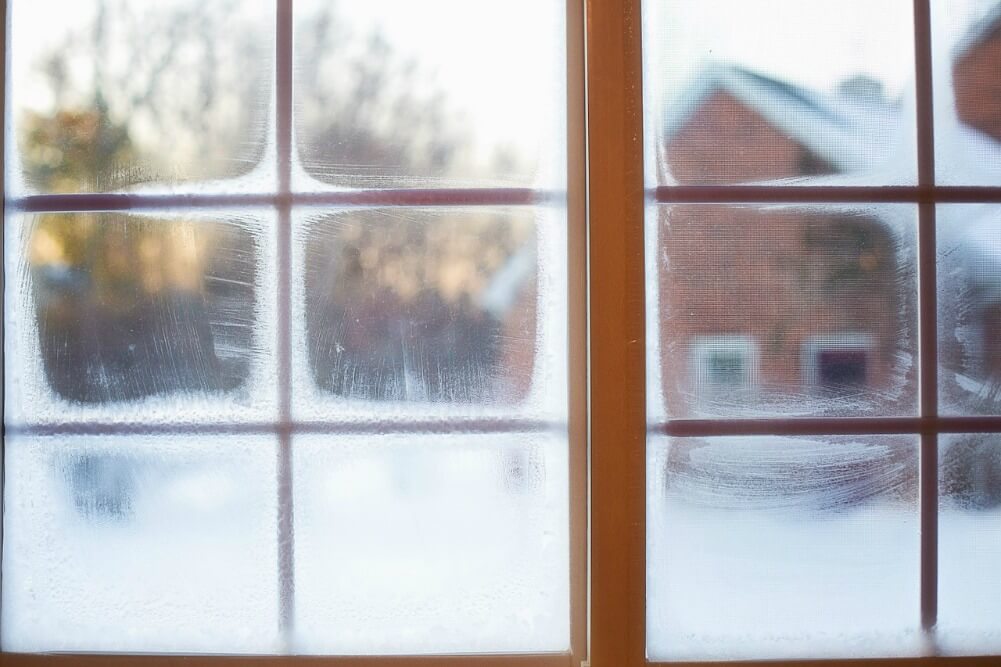 The best window treatments are made with high-quality materials that save on heating and cooling costs and make your home more comfortable.
A room with a view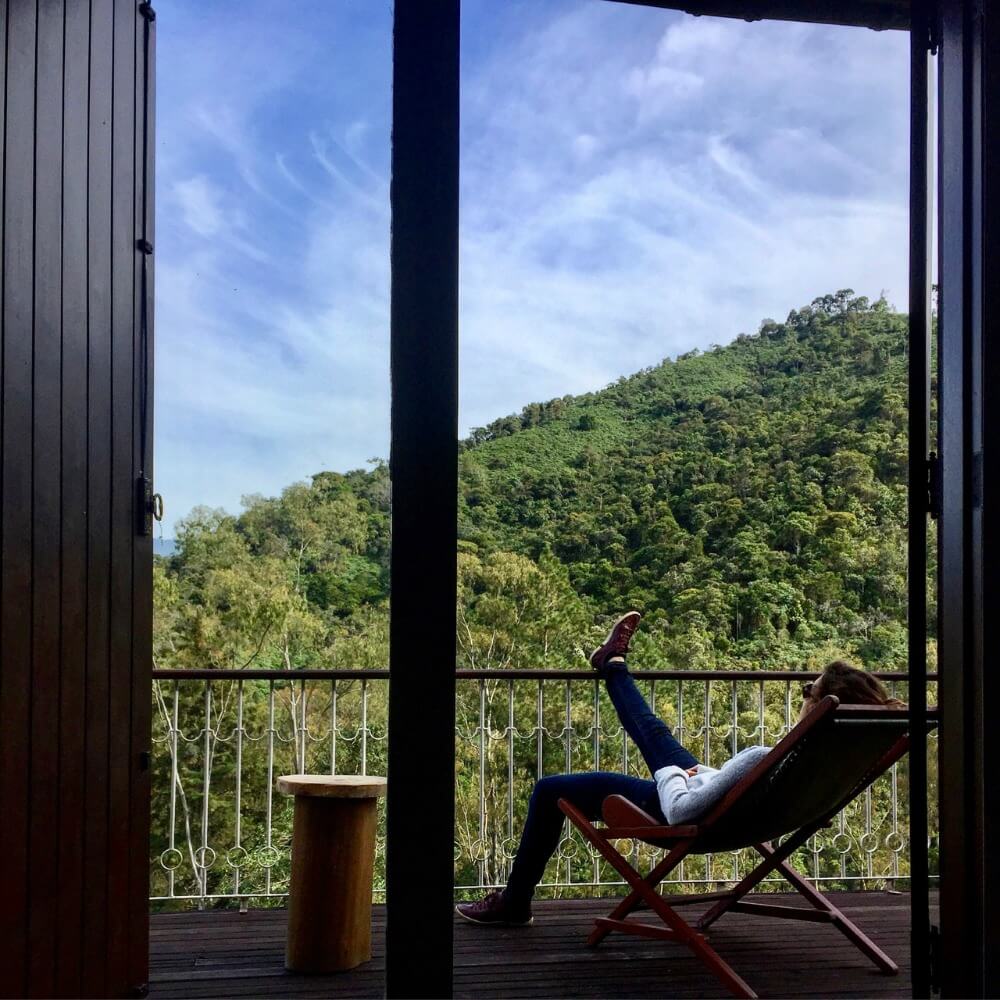 If you're buying a new home or even entering a hotel room, what's one of the first things you do when checking out the rooms?
If you're like me, you'll look out the window and take in the view!  Depending on your perspective, you may want to keep the draperies open to see the ocean or pull the drapes closed to the parking lot.
If your home has a beautiful view, you want to enjoy it. If you can see your neighbor's TV from your living room, you'll want the ability to close off the distractions.
When choosing the best window treatments, remember to consider your view. Do you want to bring your view inside or keep it outside?
Child and pet safety
Window coverings with cords can be a hazard in homes with children and pets. The needs we have already discussed are not critical when considering the safety needs of your family.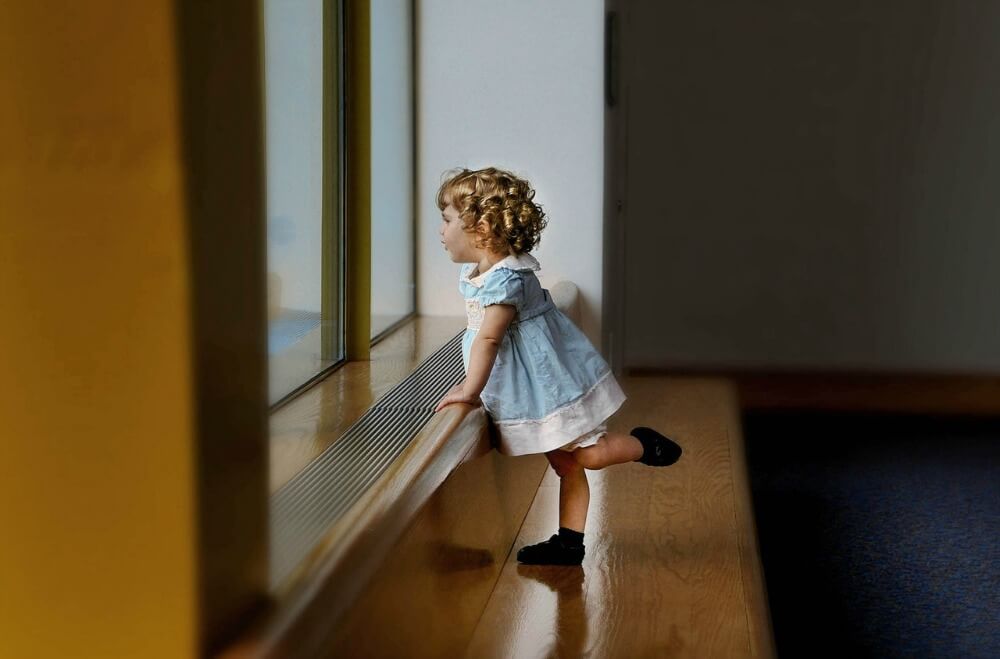 The Window Covering Safety Council (WCSC) recommends that only cordless window coverings or window coverings with inaccessible cords be used in homes with young children.

The window coverings industry uses warning tags, labels, and other methods to communicate the potential hazards of corded window coverings. The warnings deliver the vital message about cords being a potential strangulation hazard.
For more information, visit the Window Covering Safety Council website.
Best options for window treatment functionality
Now that you know the functions window treatments provide let's look at some options that may fit your lifestyle.
Roman Shades
Roman shades can be constructed with layers of material that insulate more efficiently than other window coverings.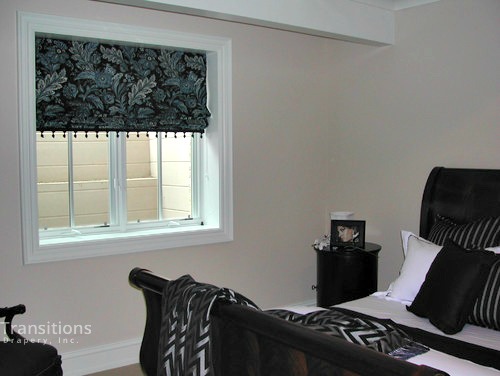 I love roman shades because of the endless décor options available in fabric colors, patterns, and styles.
Depending upon the fabric and linings, roman shades will create privacy, block the sun or allow for natural light and can be very energy efficient.
Roller Shades
Roller shades are much like roman shades. The difference with roller shades is that material rolls-up and down around the roller pole instead of folding. Roller shades are mounted inside of the window which reduces air transfer.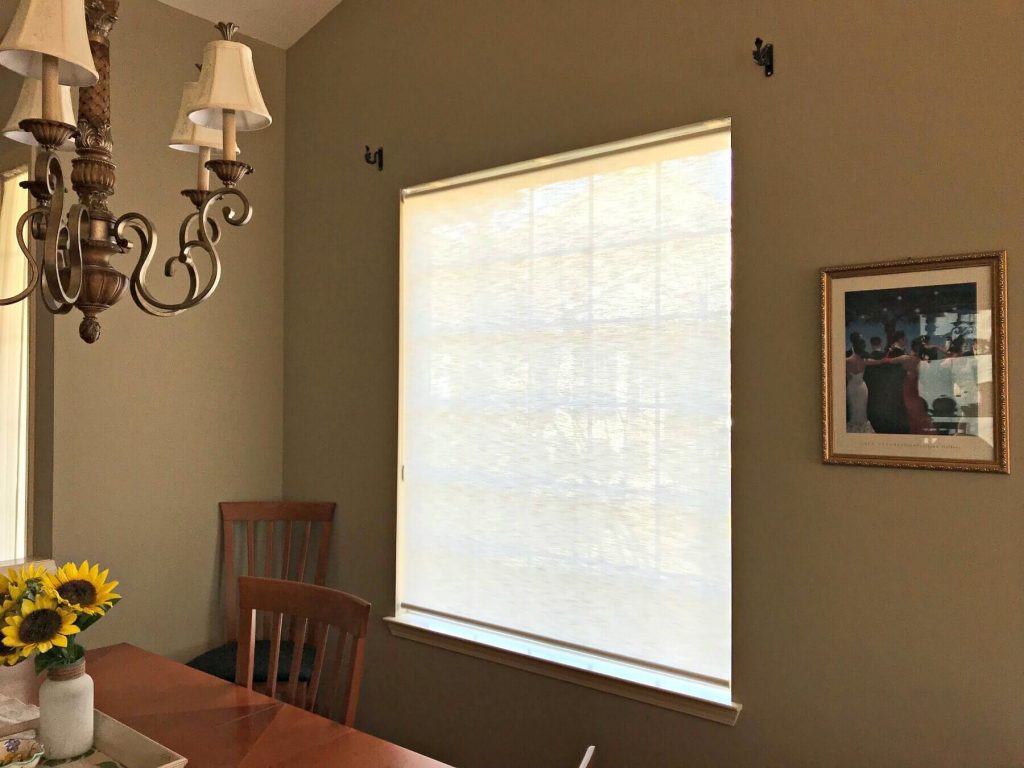 Just like roman shades, roller shades can also be made with blackout lining and insulating material.
Roller shades come in many different levels of transparency, fabrics, colors, and patterns.
Personally, I love roller shades for a clean and sleek look in transitional to modern styles and everything in between.
Top-Down or Bottom-Up
Top-down or bottom-up shades and blinds can be raised from the bottom or lowered from the top so that you can stack your window covering in any position. Ideal if you want full light, a view and privacy. You can keep your confidentiality and still enjoy the natural light.
Hunter Douglas offers amazing top-down or bottom-up shades.  I highly recommend their products for quality and durability.   Source Hunter Douglas.com.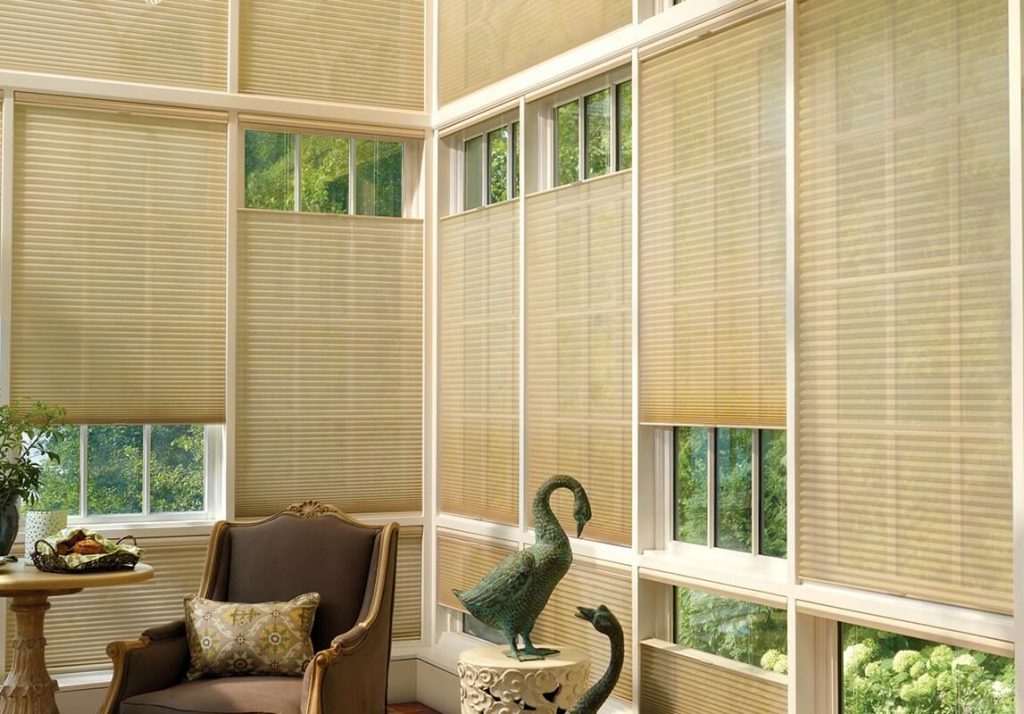 The most energy efficient window blinds are the honeycomb/cellular style shade. Many top-down or bottom-up shades are cellular. The pockets of air created in the cells block up to 50% of heat and cold air transfer.
Sheers, Curtains, and Draperies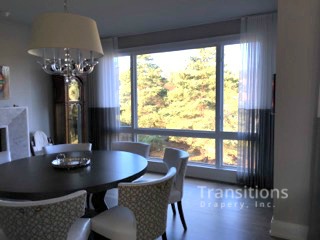 If you wish to have both sunlight and some privacy, consider purchasing sheers or curtains. Sheer fabrics and curtains create an open and airy feel.
However, if complete privacy is your goal, sheers and curtains should not be chosen. They do provide some privacy but not completely.
Also, draperies made with the proper fabric (open or closed weave and lining) can block hot or cold air., which provides insulation and sun control.
Blackout Lining
Window treatments with blackout lining are used to reduce energy costs and the amount of sunlight that comes into the room.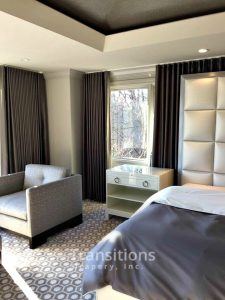 To reduce energy costs, blackout draperies can trap heat in during the winter and keep heat out during the summer.
By controlling sunlight, blackout window treatments can help people who work at night by darkening the room to nighttime levels. Another excellent use of blackout linings is in media rooms to mimic a theater setting.
Also, blackout linings help you protect your valuable home interiors. We love sunlight, but some of our floors, furniture, and fabrics don't. These surfaces can quickly fade and breakdown when hit continuously by the sun.
Even though the addition of blackout linings makes window treatments slightly more expensive, you will realize a return on your investment in energy costs and protection for your home.
---
---
Create a beautiful and functional home
Now you know how the five window treatment functions of light control, privacy, energy, view, and safety help you live comfortably and safely.  I hope this article helps you choose the best window treatments for your home.
Create a beautiful and functional home for you and your family that you will enjoy no matter what season or time of the day.
If you would like a consultation on the best window treatments for your lifestyle and home, please contact me.
Sign up for my newsletter below to get easy interior design advice and help for all aspects of your beautiful and functional home.