Transitions Drapery and More!
When you hear "drapery," you probably don't think about custom upholstery. But at Transitions Drapery, I can help you with custom upholstery projects of any kind!
Like I said in my last post, my company name, Transitions Drapery, may cause some confusion because drapery is, well, drapery. But I also create custom upholstery pieces for many clients.
Custom Upholstery projects are fun for me because they are always different and challenging.
Golf, Anyone?
I recently installed padded wall panels in a golf simulator room in Grosse Pointe, Michigan. The golf simulator system required padding on the walls and ceilings to prevent stray balls from ricocheting and injuring someone.
For this custom upholstery project, I enlisted the help of an associate who specializes in upholstery. Our first look at the project was after all the drywall and lighting had been installed. We began by measuring the space.
Here's a look at the space before we started: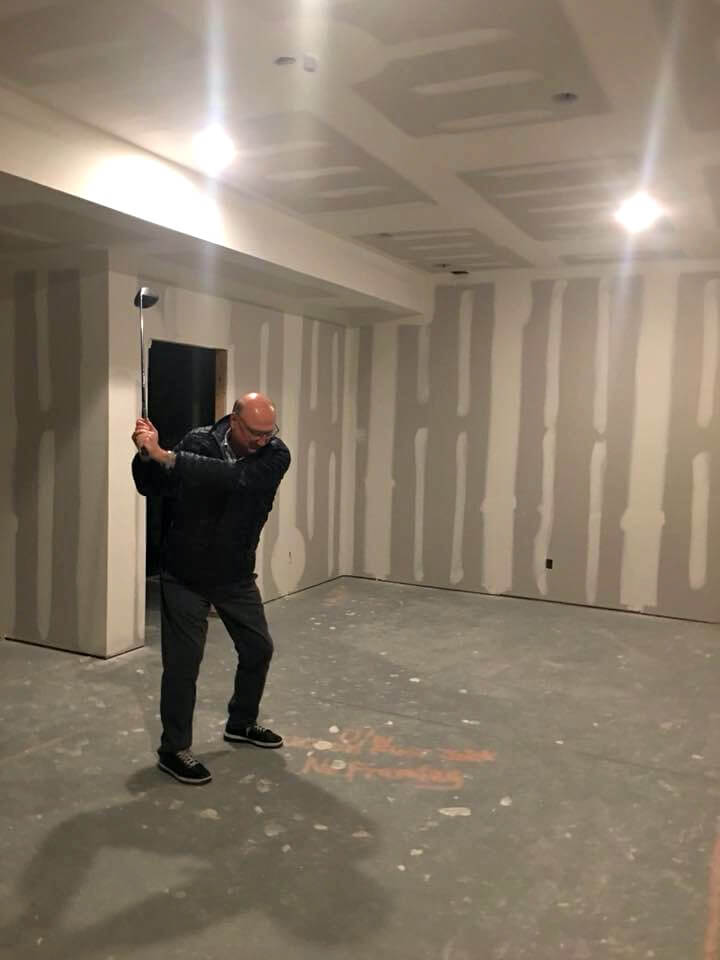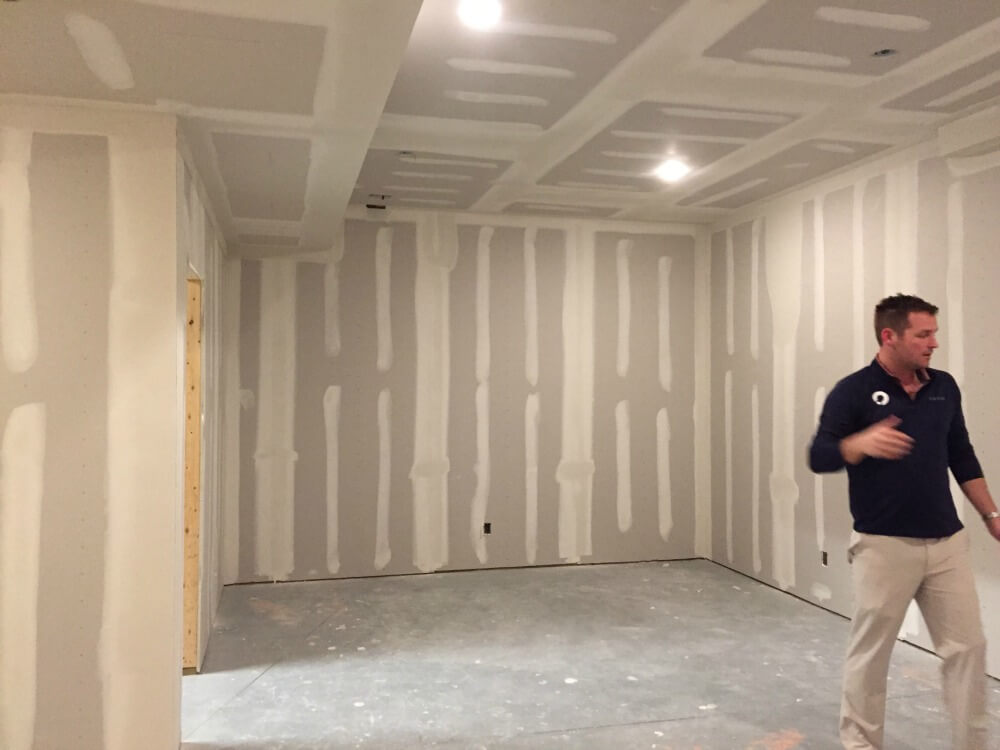 Now you see why I needed help with this job!
After I confirmed my measurements and made several calculations (good thing I paid attention in high school), the hard work began.
We built boards with padding and heavy-duty fabric to withstand the force of golf balls traveling at 90 mph. We also made sure to leave openings for the electrical outlets and lights.
This is the finished project: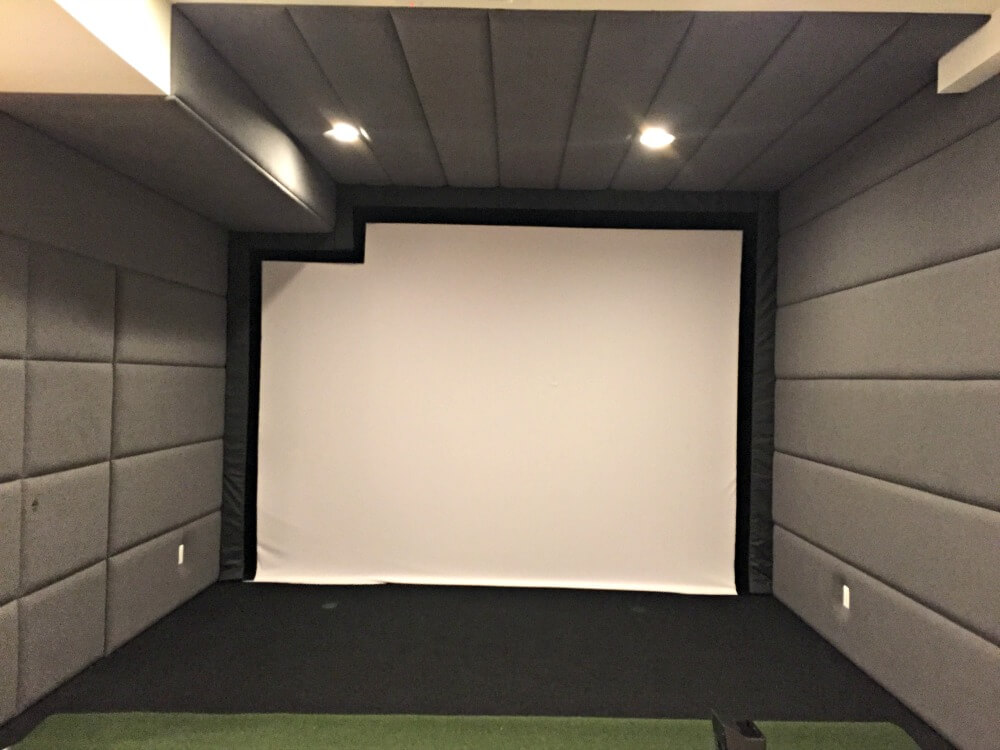 Yes, that's a lot of panels, foam and fabric to install.   The room is now ready for golfers to practice year-round.
Window Seats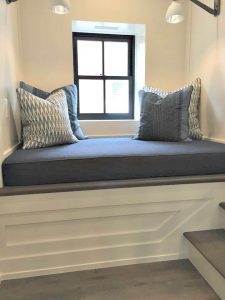 Who doesn't love a window seat? I know I do. A window seat is really a focal point for the room.
Everyone is drawn to windows and if you can sit down, it's a bonus!
I love coordinating window seat cushions, pillows and window treatments. It's all about drawing the eye to the beauty inside and out.
If you don't have a window seat in your home, with a little carpentry and creativity, you can turn an unused space into extra seating and storage. You can even turn a bookshelf into a window seat with storage!
I'm always looking for window seat inspiration, so I created two window seat Pinterest boards: One is dedicated to window seat ideas and the other to DIY your own Window Seat. Check out all the fun ways people have built and styled their window seats!
The picture above is of a window seat a client installed in a staircase landing; I fashioned the cushion and pillows. My client had those wonderful lights installed to maximize reading light. It's a great place to hide!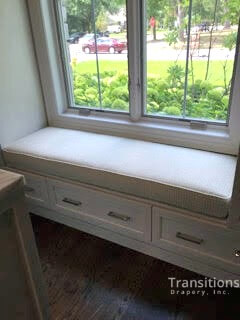 I also made the cushion for this window seat. It's another fun spot to read, for the kids to play or just to rest your feet for a minute.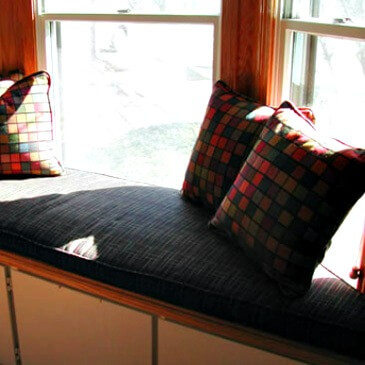 If you have a bay window in your home, count yourself lucky! Bay windows offer the most room for a window seat and the wrap-around windows offer the best view. This picture is an oldie but a goodie. I did this project many years ago and I still love those checkered pillows.
Banquette Seating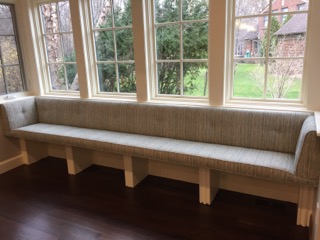 Banquette seating is another window seating option.
Banquette is just a fancy term for built-in seating. Banquette seating takes up less space, and you can build storage under the bench, which is exactly what was going Mudroom on in this photo.
I completed the custom upholstery cushion portion of this banquette seating and the carpenter returned to finish up the storage.
Mudroom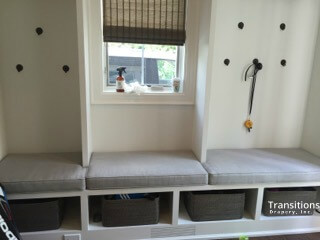 Sometimes seating is more about functionality rather than resting, but it's great if you can have both! In this mudroom, I created simple cushions that gave the family a comfortable spot to put on shoes, take off winter boots or just sit.
These are just a few of my favorite custom upholstery projects. If you have an upholstery project, give me a call. We are more than draperies at Transitions Drapery.
For more information or for an in-home consultation, please contact me at info@TransitionsDrapery.com, call me at 586-286-3640 or connect with me at transitionsdrapery.com.