We offer ready-made panels with custom fabrics and custom lengths.  You can still achieve a custom look with our ready-made panels.  Our ready-made panels are semi-custom-made because you can choose from a large selection of fabrics and five styles of panels that are ready to hang.  Also, we will work together to come up with the best solution for your home.  No guessing or randomly searching online for which ready-made panels to purchase.  We'll help you choose panels according to your style and tastes.
Measurements App
We will work with you to correctly measure your window space.  If you use an iPhone or iPad, you can download an app called Photo Measures.  With this app, you can send us images and measurements of your window.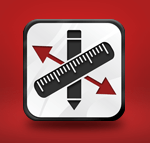 Alternatively, you can send us images of the window in an email or text, and we can help you accurately measure the space over the phone or email.  After we review the area, we'll recommend styles and fabrics based on your preferences.
Once we confirm your order, we will order them for you, ensuring everything is accurate.  The panels will be shipped directly to you.  If you're local, we can hang them for you for an additional fee.
Contact us for a consultation.  For clients located outside of the metro-Detroit area, we can chat over Facetime or Skype so that we can see your space.  Contact us by visiting our contact us page, call us at 586-286-3640 or email at info@transitionsdrapery.com.